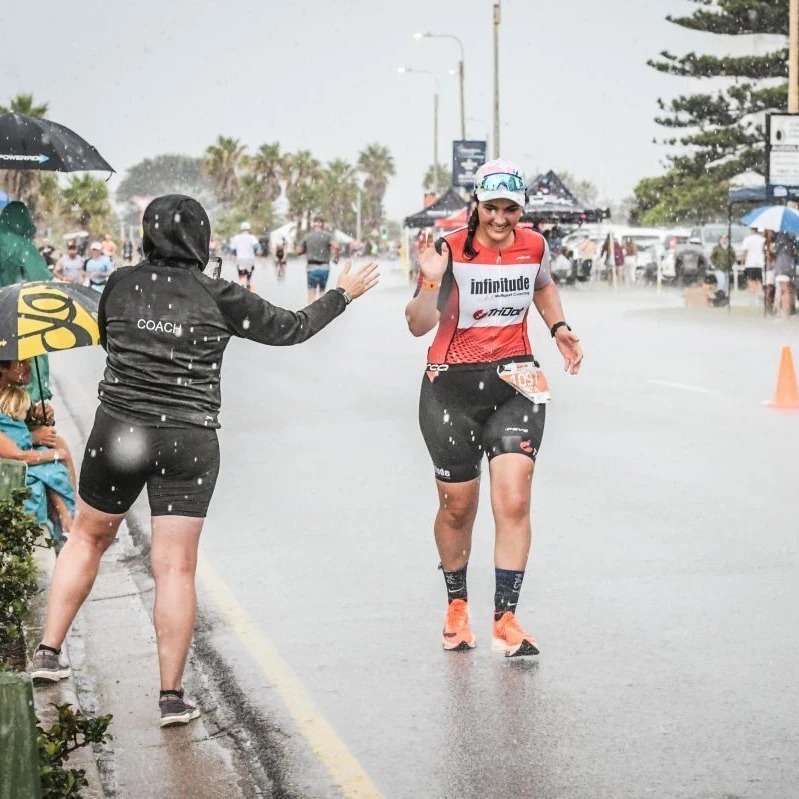 *Picture credit: Nikita Loreggian, facebook
As an athlete, race day nerves fly out the window as soon as the start gun goes off.  Adrenalin kicks and then off we go.
As a coach, race day nerves almost lasts 24 hours.
You pitch up when transition opens. Nervously checking your phone for messages from within transition. "Coach, I got a flat. Does anyone have extra goggles? I forgot my nutrition at the hotel. I tore my wetsuit".
The relief of getting no serious messages only last a few minutes because now you need to deal with jitters, fear actual bouts of nausea and just helping athletes calm the heck down. Last words of assurance, hugs, high-fives, the knowing squeeze of a shoulder when the national anthem is sung.
Then the starter sets them off. Buzzes from phones and watches makes your skin tingle as the tracker app start notifying you of athletes entering the water. From here you make your way to T1, to see your athletes exit the water, hopefully not looking too washed away and disorientated, make their way to their bike bags and eventually the bike route. A little cringe here and there when that flying mount turns into a semi push-start-shoe-fumble, but once they are off, you feel like you can breathe again. For what feels like a minute.
Family, friends and co-athletes want updates, pictures and videos. Social media reports need the be set up and posted. As soon as that is all over, you start checking the app to see if the dots on course are moving. If not, the speculation starts. Flat tire? Mechanical? Accident? GI issues? You close and open the app, forcing it to update.
Between all of this, you need to charge your phone battery, find coffee and breakfast. Then head out on to the course find a spot to set up your team gazebo. This usually involves a massive amount of walking and dragging gear along. Once that is done, the tracking continues. Shout and cheer when they pass you on the way to T2 or a second lap. Too fast for a lot of encouraging words but having them successfully complete the bike is a great feeling.
Now the wait and the real cheerleader work starts. And the worrying. Did we set up the right bike plan? Was the nutrition enough? The bike time looks good but what if they overcooked it? The first pass on the run is the happy one for most. Relieved to be off the bike. For some this is the first time they can give feedback on the bike which usually supplies an answer for a dot not moving. By the second or third lap, reality has set in and the adrenalin has worn off. Now the hurt starts and as a coach you need to dig deep to say the right thing to each athlete. Some is happy with the "Yes, looking good", some needs a time split and position updates and some might even need a little tough love and others need you to run a couple of steps with them for some advice to sort out a niggle. You also need to get a pic or two for the updates that friend, family and social media feeds. Somewhere, while all this happening, you get sunburnt to a crisp, soaked in the rain, forget to eat and you force your bladder to be stronger that you ever could imagine.
We get it wrong sometimes and we hate it more than you can imagine. It adds to the day's endless list of worries and we review the data and stats just as much as we do to find something to explain a less than stellar race. But it gets put aside because there are still athletes out there that needs a shout out or a high 5. It will be dealt with the week after the race.
Athletes finish up, head on to hotels to take well deserved shower. But you stay right up until the last of your athletes finishes. You get that video of them running down the red-carpet, tears streaming down your face because you know their sacrifice, you know the hours they spent dedicating themselves to your training and advice.  And THAT feeling, that relief, joy and elation as they cross the finish line, that should be your "why" when someone asks why you coach. I know it is mine and I will stand on the sidelines every opportunity I get.